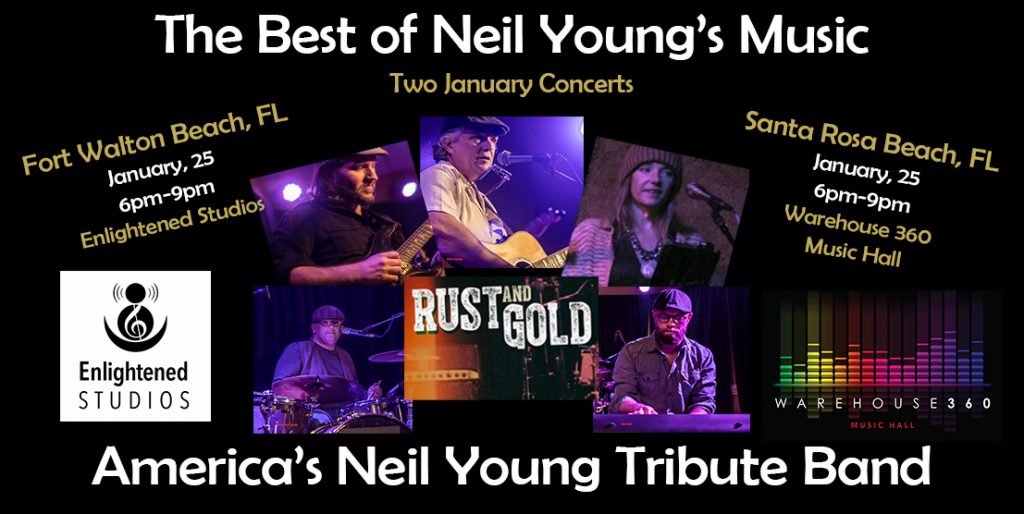 Neil Young Tribute Band Rust & Gold Live in Fort Walton Beach and Santa Rosa Beach. Join us for a night of Neil Young's best hits performed to near perfection.
FORT WALTON BEACH
January 11 8pm-12am
Enlightened Studios
142 Miracle Strip Parkway SE, Fort Walton Beach, Florida 32548
TICKETS for Fort Walton Beach available here and at door.

SANTA ROSA BEACH
January 25 6pm-9pm
Warehouse 360 Music Hall
360 WRM CircleSanta Rosa Beach, Florida
Tickets for Santa Rosa Beach Concert available here and at door.

You heard the incredible, authentic sound of Rust and Gold as they performed to a sellout concert at Trebeache in 2015. They are Back for their Winter Concert Series on January 11th January 25th. Do you love the creativity and music of Neil Young? Rust & Gold is noted for keeping to his creativity and captures his true vocals, acoustic, harmonica, and electrifying solos. Choose the concert in you area and get your tickets today. Comfortable seating, food, drinks.
360 WRM Circle Santa Rosa Beach, Florida (Old Blue Mountain Road)