Mr. Soul Live at Trebeache


Helpless Live at Trebeache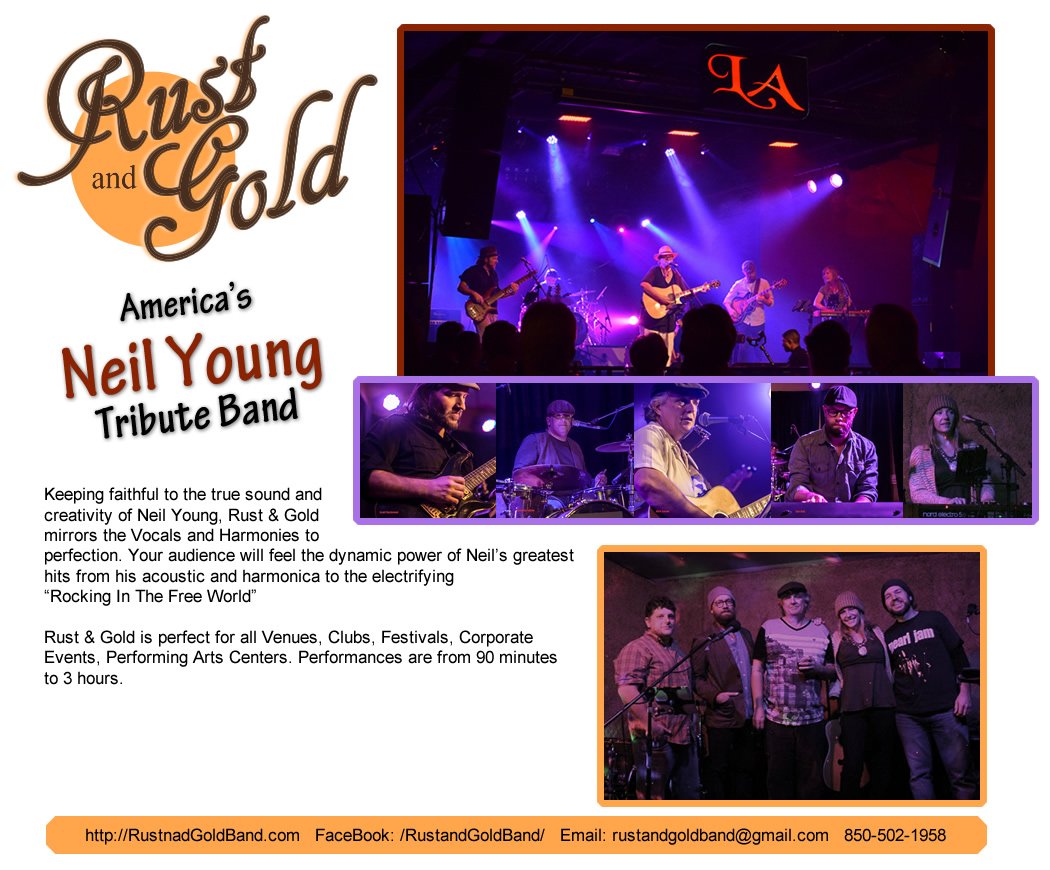 Rust &Gold is an authentic sounding Neil Young and Crazy Horse Tribute Band. Our goal is to keep to the true creative sound of Neil's acoustic, harmonica, electric and keys. A true Neil Young Tribute!
A FEW LIVE VIDEOS, MORE AUDIO BELOW.
Cinnamon Girl Cover by Rust & Gold. Filmed Live.
Cortez The Killer LIVE at HUB30A
Rust & Gold is a five piece band featuring:
Nic Turner: Lead Vocals, Acoustic Guitar, Electric Guitar, Harmonica
Scott Rockwood: Lead/Rhythm Guitar, Bass, Background Vocals
Dan Hall: Bass, Lead Guitar
Shawn Hartung: Keys, Vocals
Roberto Padron: Drums, Background Vocals
All of Rust & Gold Musicians are seasoned professionals, playing music and gigs for years. Nic Turner was performing mainly solos of Neil Young at multiple venues for a few years pulling in customers with his near exact voice to Neil Young. After suffering a stroke Nic picked back up a guitar and started playing the songs of Neil Young. This has been a HEALER for Nic as he pulled back 99%. Started playing in Restaurants, Bars, Wine Bars and weddings. Nothing tops a song of "Harvest Moon" at a wedding anniversary! The focus for Nic's marketing was the main hits of Neil Young that are popular to his fans. Nic started the "Nic and Friends Show" and booked over 150 shows in 12 months in Destin, Miramar Beach and 30A areas. Nic invited his good friend Scott Rockwood to join in on several acoustic shows as a duo. Scott is a master musician playing in popular bands for many years from St. Louis to North West Florida. His skills are sought after by many of the areas top bands and musicians for guitar, vocals and professional recording. e is the Beachcomber Award Winner for Best Guitar Player.
Scott put together the band Rust & Gold and brought it all together with his long time partners in music Shawn Hartung, Dan Hall and Roberto Padron. Live videos on facebook. Covers of "On The Beach" and "Cortez The Killer"
Through our highly targeted marketing campaigns online, radio and print, we bring in customers to your venue!


Harvest Moon Live Club LA


http://rustandgoldband.com/wp-content/uploads/2016/12/Harvest-Moon.mp3

To book Rust & Gold Please Call 850-502-1958


or Email us at rustandgoldband@gmail.com